'04-'15 Shorty Mufflers Triumph Thruxton & Bonneville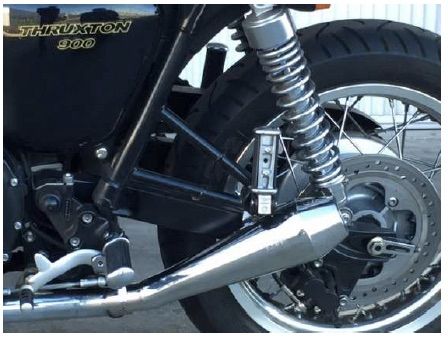 '04-'15 Shorty Mufflers Triumph Thruxton & Bonneville
Drop the bulk & weight of the stock mufflers & kick up the sound on your 2004 - 2015 Triumph Classic motorcycle.
Cone Shorty Performer Mufflers come in pairs that fit the air-cooled Triumph Thruxton & Bonnevilles (will not fit Mag Wheel). Smaller & more compact than the stock mufflers, they tuck in nice on the bike. See the video below of them in action & a sound demo or click HERE.
The Stainless Steel finish matches your stock pipes in a Bright Polished Finish. Or, in black ceramic (special order). They have a 3.75 inch diameter at the peak with a large 2" opening on the reverse cone. Most mufflers with large outlets have a "hollow" resonance, but but not these. They feature a unique double-step rifled perforated core that gives a tight solid tone. Mufflers fit on stock pipe ends. Uses stock mounting brackets. Kit includes 2 mufflers, hardware & spacers. Easy bolt on install.
NOT FOR SALE IN CALIFORNIA. AVAILABLE TO OTHER CONTINENTAL UNITED STATES ONLY. NO INTERNATIONAL SALES.
Made in the USA. Not DOT approved. Only for track use.