2016+ Shorty Mufflers Triumph Thruxton, Bonneville, Street Twin, Street Cup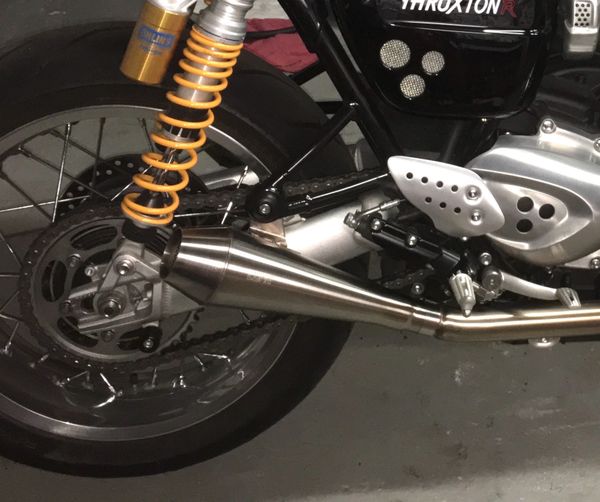 2016+ Shorty Mufflers Triumph Thruxton, Bonneville, Street Twin, Street Cup
Drop the bulk & weight of the stock mufflers & kick up the sound on your 2016+ Triumph Classic motorcycle.
Cone Shorty Performer Mufflers come in pairs that fit the new water-cooled Triumphs; Thruxton, Thruxton R, Bonneville T120, Bonneville T120 Black, Street Twin & Street Cup. Smaller & more compact than the stock mufflers, they tuck in nice on the bike. See the video below of them in action & a sound demo. Or, click HERE.
The Stainless Steel finish matches your stock pipes in either Bright Polished (T120 or standard Thruxton 1200), Brushed Finish (Street Twin, Street Cup or Thruxton R), or black ceramic (special order all models). They are 13 1/2 inches long with a 3.75 inch diameter at the peak with a large 2" opening on the reverse cone. Most mufflers with large outlets have a "hollow" resonance, but but not these. They feature a unique double-step rifled perforated core that gives a tight solid tone. Mufflers fit on stock pipe ends & catalytic convertors can stay in place. Uses stock mounting brackets. Kit includes 2 mufflers, clamps, sealant, & spacers. Easy bolt on install. No remapping should be needed. Not designed for use with factory or after market center stands.
NOT FOR SALE IN CALIFORNIA. AVAILABLE TO OTHER CONTINENTAL UNITED STATES ONLY. NO INTERNATIONAL SALES.
Made in the USA. Not DOT approved. Only for track use.