2016+ Triumph Thruxton Rear Fender Elimination Kits (FEK)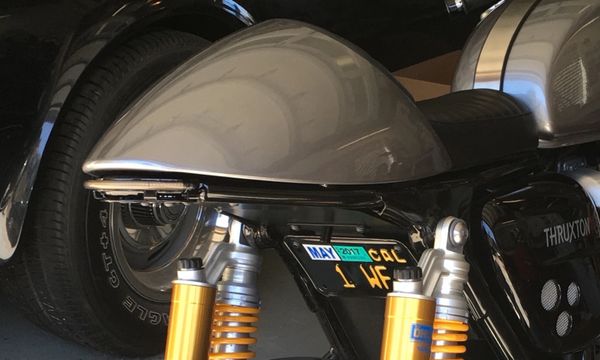 2016+ Triumph Thruxton Rear Fender Elimination Kits (FEK)
Rear Fender Elimination Kits (FEK) for 2016+ Thruxtons. Super clean design. Light aluminum splash guard with steel LED plate and steel license plate mount for strength. Available in 2 widths. One for wide stock seats with LED that hangs just below the frame so it clears the low stock position of the seat/cowl. And also in a narrow version that fits up in the indent in the rear of your frame. This version is for skinny Wilder FATORY seats. See pictures.
Your choice of standard tail end mounted license plate or a hidden mount that's inside the wheel well.
The LED includes a center red element that is the brake/running light. On each end is an amber element used for turn signals. Plug 'n play harness prewired. Includes all screws, hardware, spacers and license plate light. Splash guard is designed to cover gap to the lower factory splash guard.

Front LED conversions kits are also available HERE.
Not DOT approved. For off-road, race or show use only.