'65-'84 Early Swingarm / Big Twin Cobra King Seats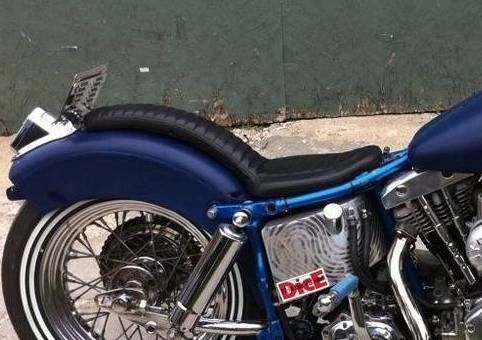 '65-'84 Early Swingarm / Big Twin Cobra King Seats
Transform the look of your 1965 to 1984 stock Harley Davidson Swingarm or custom swingarm shovelhead. 
Designed by the infamous Dan Collins of Old Gold Garage. Slim for good looks & low seat height, but comfortable enough for the long haul. These aren't made for dropseat panhead frames ('58-'64), but could probably work with a little persuasion. 
Heavy gauge steel pans. Your choice of tuck 'n roll pleats, diamonds or button tuck upholstery (which has thicker padding). Available in your choice of marine vinyls or optional leathers including "distressed" browns that have natural light & dark color tones. 
Mounts with 2 front tongue tabs & a rear tab. May require drilling a small hole in the rear fender for the rear mount. Hand made to your specs in SoCal, USA. Seat thickness is 1 1/2 inches. (Button tuck is 2 1/4 inches thick.) Production time is around 10 business days.
*THESE WILL NOT FIT DYNA OR FXR or Softails.