'82-'03 Sportster "2 Up" Cobra King Seats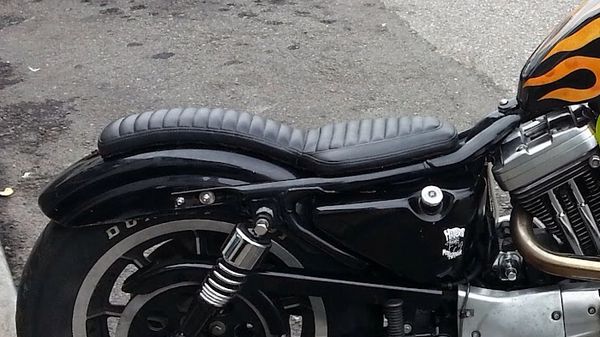 '82-'03 Sportster "2 Up" Cobra King Seats
Get some big Frisco style on your sporty!
This is the Cobra King seat in a "2 UP" version for your 1982 to 2003 Harley Davidson Sportster. It comes in your choice of 1 inch tuck 'n roll pleats, diamond stitch or button tuck over the whole top with extra padding for that 70's look.
Available in 2 rear section lengths. "Mid length" is 10 5/8 from the corner of the bend to up & over the rear of the seat. The "Long" version is 13 3/8 from the bend up & over the rear of the seat. The "Long" version mounts to the stock fender mount when using a "tab" mount on the rear of the seat.
Custom made in your choice of marine vinyls or optional leathers including "distressed" browns that have natural light & dark color tones. Massaged lovingly over firm foam padding. Thin profile for good looks & aggressive styling, but comfortable enough for the long haul. Heavy gauge steel seat pans. Made in SoCal, USA.  Seat thickness is 1 1/2 inches. (Button tuck is 2 1/4 thick.) Production time is around 10 business days.
These cannot be modified to work on 2004 & up sportsters.