'Rigid Frame SNAKE CHARMER Seats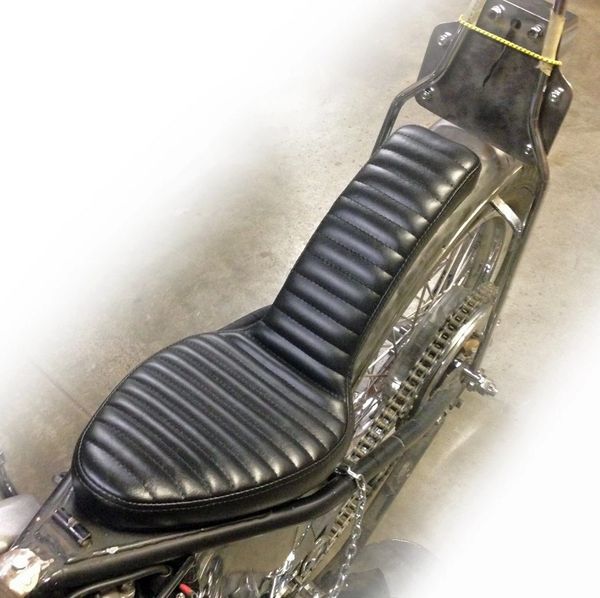 'Rigid Frame SNAKE CHARMER Seats
The Snake Charmer seat is back!
The world famous rigid frame Snake Charmer Cobra King seats are available with even more options. These fit your rigid Harley Davidson frames or similar custom frames. They are the best in the biz & are hand made in SoCal USA. The pans are constructed of heavy gauge steel & are covered in marine grade vinyl with firm foam padding. Available in optional leathers including "distressed" browns that have natural light & dark color tones. Your choice of 1 inch tuck 'n roll pleats, diamond stitch or button tuck over the whole top with extra padding for that 70's look.
The width of the passenger section (over the rear fender) is 4" wide. Mounting is builder's choice. There are 3 nuts flush mounted inside the steel pan. 2 at the nose & 1 at the tail. You can bolt these to the frame or use a typical  nose hinge mount to access your oil fill. They are available with short or long rear sections. Short is 13" and Long is 17" from the corner of the bend up over the back of the seat. Seat thickness is 1 3/4 inches.(Button tuck is 2 1/4 inches thick.) Production time is around 10 business days.
These are NOT designed for use on softails but they may work with some bracket modifications, at your discretion.
These are NOT designed for use on early swingarm frames, please see our Swingarm Cobra King seats for that application.